Ascendance
From Archives of Lusternian Lore
Ascension to Divinity is a spectacular and rare achievement, known to very few. During the Vernal Wars, many Vernal Gods and Goddesses were raised through the great Nexuses of Power across the lands.

Once every generation, the Nine Seals which imprison Almighty Kethuru must be recharged by the lifeforce of a mortal, the power of which burns away the life and mortality of the chosen one and grants them ascension to divinity. There have been only two of these Ascended Gods in existence: Avechna, the Avenger arose at the end of the Vernal Wars, and in modern times the mortal Soll Peulus ascended as Ayridion, the White Flame. Although in modern times, mortals have once again learned to channel a nexus's power into apotheosis, the route to Vernal Divinity has been lost. Instead, a mortal imbued with a nexus's power rises as a Vernal Ascendant.

The ancient and enigmatic Elder Gods have existed since before recorded history, but there exists no way for any mortal to ascend as an Elder God, for they were created by the power of Dynara and the Nameless Son of Yudhe.
| | | |
| --- | --- | --- |
| Meditation | Inept | Master the energies of the Nine Domoth. |
| Clairsentience | Inept +1% | Sense other Ascendant presences. |
| FearAura | Novice | The weak shall flee from your might. |
| Destruction | Apprentice | Shape globes of liquid power. |
| Affinity | Capable | Draw strength from the land. |
| Flight | Adept | Rise into the skies on currents of power. |
| Veneration | Master | Form a divine cult to venerate you. |
| Benevolence | Gifted | Lift up those in need. |
| Intervention | Expert | Every flock requires a shepherd. |
| Prospicience | Expert +50% | See the world through another's eyes. |
| Aegis | Virtuoso | The strength of your aegis shelters the weak. |
| DivineSupper | Virtuoso +50% | Sup at the table of your benevolence. |
| Portal | Fabled | Channel a gateway through the planes. |
| Presence | Fabled +50% | Increase the reach of your influence. |
| Consumption | Mythical | Steal the essence of another Ascendant. |
| Glory | Mythical +50% | A ritual to grant wisdom to your host. |
| Omniscience | Transcendent | Hear and speak freely on all planes. |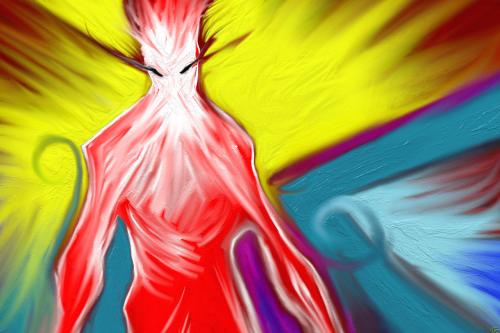 Meditation
Syntax:
MEDITATE UPON ASCENDANCE
DOMOTH
Essence: 30000
While in the Domoth Realms, you can meditate upon the nature of Ascendance and learn mastery of the energies of the Domoth themselves. This has a hefty essence cost, but will result in an increased understanding of Ascendance itself.
Any Demigod or Ascendant also has an inherent understanding of the Nine Domoth and which powers rule therein at any given time.
Clairsentience
Syntax:
MANIFEST CLAIRSENTIENCE
Domotheos: None
Essence: 300
"As with all of us whom Dynara brought into being from the same creche, or the same higher plane of existence (whichever you prefer), this bond links us together even now."
By manifesting your Ascendant powers into a form of clairsenteince, you can sense the locations of other Ascendants wherever they may be. This is, however, imprecise for those Ascendants who are not aligned with your city-state.
FearAura
Syntax:
MANIFEST FEARAURA <ON|OFF>
Domotheos: Death
Essence: 200/100
"Gorob wandered Lusternia, and the mortal people he visited variously fled from his might or flocked to him as their saviour."
By drawing veils of nightmare around your form, the weak of heart will flee from your terrifying visage. Maintaining these dark veils will continually drain your Ascendant essence.
Certain Ascendant powers draw strength from a particular Domotheos. Where this is the case, that power will be stronger or expanded for the one who controls the Domoth. In the case of the fear aura, the ruler of the Domotheos of Death shall find their visage afflicts with frightful visions more often than others. What effects the Domoth might have upon other powers remains a mystery...
Destruction
Syntax:
MANIFEST DESTRUCTION AT <victim>
Domotheos: War


Damage Type: 100% Fire
Damage Source: Magical
Essence: 200/25
"Gorob rose over the city, his body expanding and power crackling around him in a fury. His eyes glowed golden and his hands shaped spheres of liquid power from the waters around him."
Pure destructive energies drawn from the Nine Domoth are yours to command. The essence cost of attacking denizens is significantly less than that required to assail another player.
The damage you deal will be dependant upon your skill in Ascendance.
Affinity
Domotheos: Nature


Damage Modifier: 5
"Not only did Kiakoda have the power of a vernal god, but she also drew considerable power from, and thus empowered, the forests of Lusternia."
By mastering the nature of the lands, you will find that you take less damage in the terrain type associated with your Nexus of Power. Also, enemy Mages and Druids will find that the lands are empowered to resist their attempts to break melds of that terrain type if you are within the local area, making it a much more difficult process.
Flight
Syntax:
FLY
LAND [ROOFTOPS|TREES|MOUNTAINS]
Domotheos: None
By summoning raw currents of power, you can take to the skies with ease.
Veneration
Syntax:
CULT
PERFORM RITUAL OF INTROSPECTION
Domotheos: None
An Ascendant is a paragon to which all mortals must aspire, and so an Elder God may choose to form an Ascendant Cult with you. You must be a member of the Divine Order of that Elder God in order to form an Ascendant Cult, and the essence cost to form such a cult is staggering to both yourself and to the Elder God.
Once formed, a Cult is a sub-sect within the Divine Order which has a pool of essence that is distinct from your own, which may be drawn upon to perform rituals that will benefit yourself and your Cult members. When members of the Cult offer at shrines to the Elder God, a portion of the essence will be tithed to your Cult's essence pool.
When members are inducted into your Cult, it will draw upon your personal essence. Every Lusternian month thereafter, there is an upkeep cost drawn from your personal essence for each member of the Cult. If you leave the Divine Order then your Cult will be dissolved, since the Cult is tied inextricably to the essence of the Elder God with whom you have formed it.
The Ritual of Introspection is the most basic of rituals, one which allows you to sense the general location of all the members of your Cult.
Benevolence
Syntax:
MANIFEST BENEVOLENCE FOR <person> WITH <amount> ESSENCE
Domotheos: None
Half essence is lost in transfer
You may benevolently grant a gift of your divine essence to a demigod or Ascendant. However, this is an imprecise power at best and so a preponderance of the essence will be lost in the process.
Intervention
Syntax:
PERFORM RITUAL OF INTERVENTION FOR <person>
Domotheos: None
Cult Essence: 20000
You may instantly translocate yourself to where one of your Cult members stands, intervening to save them from harm.
Prospicience
Syntax:
PERFORM RITUAL OF PROSPICIENCE FOR <person>
Domotheos: None
Essence: 500
You may gaze through the eyes of one of your Cult members as if you were standing in their location, regardless of where they may be.
Aegis
Syntax:
MANIFEST AEGIS FOR <person>
Domotheos: Justice
Essence: 10000
By forming an Aegis bond with another, you will join your lifeforce together, and should that person be in danger of dying, you will take their damage, up until the point where such damage would kill you. This power comes with limits, however: you must remain within the same local area as one another, and should either of you die, the other will suffer a grievous loss.
Divinesupper
Syntax:
PERFORM RITUAL OF DIVINESUPPER
Domotheos: Life
Cult Essence: 25000
The ritual of Divine Supper, which may only be performed once per Lusternian month, draws upon the essence of the Domotheos of Life to empower you and your Cult members. Those standing with you will find their health, mana, ego, willpower, and endurance refreshed, and will be protected by magical and psionic shields.
Portal
Syntax:
PORTAL <NEXUS|person>
Domotheos: Chaos
Essence: 10000/100000
Chaos underscores all order behind the veils, creating a reality rife with contradiction and paradox. You may tap into these anomalies to create a portal between two disparate locations.
When creating a portal to another person, you will only be able to tap into the shared resonance of those who are within your Ascendant Cult. Such a feat is significantly more taxing if either you or your chosen target are standing in enemy territory.
Presence
Syntax:
PERFORM RITUAL OF PRESENCE
Domotheos: Beauty
The ritual of Presence harnesses the magics of the Domotheos of Beauty, increasing the charisma of yourself and your followers, and soothing your ego. This ritual may only be performed once per Lusternian month, and will affect yourself and all your Cult members in your location at the time it is performed.
Consumption
Syntax:
MANIFEST CONSUMPTION OF <person>
Domotheos: None
This dangerous power will drain the essence of a demigod or Ascendant for your own use. It draws the essence directly from the blood of your victim, and so requires them to be bleeding in order to be successful. In contrast to the benevolent gift of one's essence to another, that which is forcibly stolen is alien and unwelcome in your body, and it is whispered that frequent wielders of this power are depraved and insane.
Glory
Syntax:
PERFORM RITUAL OF GLORY
Domotheos: Knowledge
A ritual to summon the great wisdom of the Domotheos of Knowledge, you will grant yourself and your assembled followers a measure of experience. How much experience is gained will depend upon how many of your Cult members are present, and this ritual can be performed but once per Lusternian month.
Omniscience
Syntax:
MANIFEST OMNISCIENCE <ON|OFF>
Domotheos: Harmony
As it is with the Elder Gods, casting your consciousness upon the aetheric winds will allow you to speak and hear freely upon all planes of existence, regardless of the distance involved. This is taxing, however, and will slowly drain your essence.
Essence For Skill Ranks
From
To
Cost
Total
Inept
to
Novice
490000
490000
Novice
to
Apprentice
630000
1120000
Apprentice
to
Capable
1260000
2380000
Capable
to
Adept
3850000
6230000
Adept
to
Master
6230000
12460000
Master
to
Gifted
7770000
20230000
Gifted
to
Expert
9380000
29610000
Expert
to
Virtuoso
12390000
42000000
Virtuoso
to
Fabled
21840000
63840000
Fabled
to
Mythical
26600000
90440000
Mythical
to
Transcendent
29610000
≈ 120000000