Necromancy
From Archives of Lusternian Lore
Necromancy is a specialization of Rituals, and can only be learned in Magnagora as it is connected to the nexus known as the Megalith of Doom. The power of the dark chants of necromancy originate on the demonic plane of Nil. Basic necrotic rituals involve draining and perverting the life force. Eventually, necromancers will be able to create undead and the goal of all necromancers is to rise as the most powerful undead--the lich. Knights who become liches are generally referred to as Death Knights.
| Skill | Learned At | Description |
| --- | --- | --- |
| Mastery | Master+0% | Speak with the dead and influence them. |
| Carrion | Master+33% | Consume corpses during times of need. |
| Feed | Master+66% | Derive sustenance from another being. |
| Shrivel | Gifted+0% | Cause your opponents limbs to shrivel to uselessness. |
| Cannibalize | Gifted+50% | Your health or mana can be cannibalized. |
| Leech | Expert+0% | Leech away the mental energies of another. |
| Drain | Expert+33% | Tap into another's energy reserves and drain it into yours. |
| Omen | Expert+66% | Place the mark of an ill omen upon another. |
| Putrefaction | Virtuoso+0% | Cause your flesh to decay and melt. |
| Disfigure | Virtuoso+33% | Curse someone with the visage of a rotting corpse. |
| Ectoplasm | Virtuoso+66% | Spew sticky ectoplasm upon everyone in your location. |
| Contagion | Fabled+0% | Release a cloud of contagion around you. |
| Raisedead | Fabled+33% | Create the undead. |
| Deathmark | Fabled+66% | Touch your victim with a grim mark. |
| Ghost | Mythical+0% | Turn yourself into a ghost. |
| Crucify | Mythical+25% | The ultimate in pain and humiliation. |
| Sacrifice | Mythical+50% | Nil looks favorably upon bloody sacrifices. |
| DeathWeapon | Mythical+75% | Blades can inflict terror on the marked. |
| Lichdom | Transcendent+0% | You will not die but instead rise as a powerful lich. |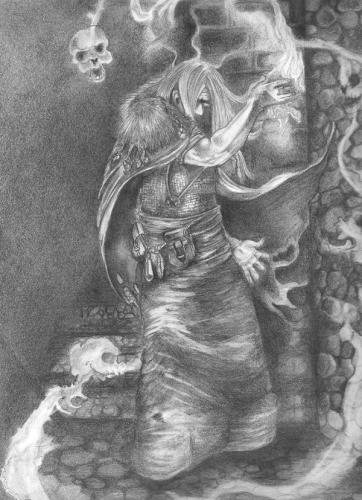 Mastery
Your mastery over the undead allows you to influence them. Necromancers also are better able to influence them than others.
Carrion
In times of need, you can eat corpses for food.
Feed
Syntax
DARKCHANT FEED <target>
You can feed upon the nourishment of others.
Shrivel
Syntax
DARKCHANT SHRIVEL <player>
Power: 1 (Megalith of Doom) (if not crucified by your own crucifix)
You can shrivel and rot the flesh from the limbs of your enemies. Two random limbs will be affected with each casting.
Additional Notes:
Causes damaged limbs.
Cannibalize
Syntax
DARKCHANT CANNIBALIZE [HEALTH|MANA]
Power: 3 (Megalith of Doom)
You cannibalize 50% of your mana to your health or vice versa.
Leech
Syntax
DARKCHANT LEECH <target>
You can leech away the mana of others and add it to your own. Leeching a deathmarked victim can increase the mana taken.
Drain
Syntax
DARKCHANT DRAIN <target>
You can drain the energy reserves of another into yours.
Omen
Syntax
DARKCHANT OMEN <target>
Power: 2 (Megalith of Doom)
From the dark books of Baalphegar, you can cast a foul omen upon an unlucky soul. While under such an omen, that person will find any damage against him or her will be increased.
Putrefaction
Syntax
DARKCHANT PUTREFACTION

SOLIDIFY
Damage Modifier: 4/10 blunt and cutting resistance
By turning your flesh into a semi-liquid, rotting state, you gain some measure of immunity from weapons. This will drain your health away though, so use it with caution.
Disfigure
Syntax
DARKCHANT DISFIGURE <target>
Placing the visage of a rotting corpse upon a victim will give an aura of repugnance. All those loyal to him or her will turn upon the hapless target.
Ectoplasm
Syntax
DARKCHANT ECTOPLASM [<target>|ALL]
Power: 2 (Megalith of Doom) - untargeted (max 3 people)


1 (Megalith of Doom) - targeted
10(Megalith of Doom) - all
By spewing forth ectoplasm, you will coat your personal enemies with the viscous substance, making it harder to recover balance (-10/-10 penalty). Alternatively, you can target the spell against one individual. If regularly untargeted, ectoplasm will, at max, only affect three enemies. If all is specified, all personal enemies will be affected.
Contagion
Syntax
DARKCHANT CONTAGION
Power: 6 (Megalith of Doom)
Create a cloud of pestilent flies that will infect your personal enemies with disease. Liches are immune.
RaiseDead
Syntax
DARKCHANT RAISEDEAD <corpse>
Power: special* (Megalith of Doom)
You can make a corpse rise up as one of the undead. Though you cannot control the undead, it will automatically attack your enemies. You must be holding the corpse in your inventory. The type of undead will be determined by the level of the corpse, and low level corpses will simply turn to dust. (Note: this can only be performed on player corpses.)
Power cost depends on the level of the corpse:
 *Below level 30 (dust) = 0 power
 *Level 30-39 (skeleton) = 1 power
 *Level 40-49 (zombie) = 2 power
 *Level 50-59 (ghoul) = 3 power
 *Level 60-74 (ghast) = 4 power
 *Over level 75 (wight) = 5 power

Deathmark
Syntax
DEATHMARK PLACE <target>

DEATHMARK SENSE [target]
Power: 1 (Megalith of Doom) - Place
Place a grim mark upon your victim so you may sense him better, aiding in his demise. Use of several Necromancy skills will cause the mark to darken further. As the mark darkens, so will your abilities to sense things about your victim increase. Should you seek the means to torture him, the mark will make it ever so painful. It will also cause your victim a longer time to recover his balance while on a crucifix and more apt to fall to the worst of a contagion plague. Finally, the victim will find it harder to cure deepwounds when applying a healing potion as the mark darkens.
Note: TOUCH darkens mark by 3 levels. OMEN, DISFIGURE darkens mark by 2 levels. SHRIVEL, FEED, MARKWEAPON darkens mark by 1 level.
Ghost
Syntax
DARKCHANT GHOST

NATIVEFORM
Power: 3 (Megalith of Doom)
While in the form of a ghost, your freedom is severely limited, but your ability to be harmed is also severely restricted. While a ghost, you will lose willpower very quickly as you strain to hold your nebulous form together. NATIVEFORM is the command to return to your normal form.
Crucify
Syntax
DARKCHANT CRUCIFY <target>
Power: 7 (Megalith of Doom)


Damage Type: 100% Unblockable
From Nifilhema's House of Excruciating Pain, you can call up one of her most favorite tortures upon an unlucky victim. An iron cross will rise up and your victim will be nailed to it, shackled and bleeding. Not only will the iron cross continuously wound the victim, but also it will expand and break the limbs.
Sacrifice
Syntax
DARKCHANT SACRIFICE <target>
Power: 3 (Megalith of Doom)
You will be well rewarded by sacrificing someone to the Demon Lords of Nil. This is an extremely difficult task to perform as your sacrifice must be crucified by your own crucifix with all limbs broken.
DeathWeapon
Syntax
DEATHWEAPON MARK <weapon>

DEATHWEAPON RELEASE
Mark a blade or a symbol and it will help darken your deathmark if already placed on your victim. Be warned, as marking will cause the weapon to not cause as much direct harm to your victim.
Warrior weapons will gain a small chance to afflict with contagion afflictions. If they don't cause a contagion affliction, they will cause slightly more damage depending on how dark the person's mark is.
Lichdom
Syntax
DARKCHANT LICHDOM <target>

With Lichseed:
EMBRACE UNDEATH
RENOUNCE UNDEATH

As Lich:
TOUCH <target>
BREATHE CONTAGION
EYEBLAST <target>

As Archlich:
COLDAURA <ON|OFF>

Power: 10 (Megalith of Doom)


5/5 (Megalith of Doom) if targeted
3 (to breathe contagion as a lich)
Damage Modifier: 1/8 excorable resistance
-2/-8 divinus resistance
By preparing your body for lichdom, the next time you die, your body will rise again as a lich.* As a lich, you will find your damage and equilibrium recovery increased at night but, to a lesser extent, decreased during the day. You will also have mild regenerative powers at night. Your touch will freeze others, and you can breathe contagion at half the power cost of casting it. Also, as long as a lich is in the same room as a cloud of contagion, the cloud cannot be blown away. Warriors who become a lich are often referred to as "Death Marshals".
NOTE: When your ghost reforms as a lich, you will be at 0 power and have a loss of equilibrium.
One can also EMBRACE UNDEATH to become a lich for no experience penalty, but it will drain current power to do so.

SPECIAL: Archlich
Necromancers who have gained knowledge of Lichdom are known as archliches. An archlich is immune to the detriments of daylight, maintaining full benefit in the light as well as the dark, and gains the additional skill of the Cold Aura, which will cause enemies around the lich to suffer the cold of the grave, which is similar to the touch of the lich. Maintaining the cold aura costs a significant mana drain. They can also give the lich seed to others for five power from the Megalith from both parties.
SPECIAL: Lich and Archlich
Syntax
EYEBLAST <target>
Damage Type: 100% Excoro Energy
Liches have what is known as an excorant gland, which absorbs excorable damage. Liches will absorb 10% of excorable energy and archliches will absorb 20%. When the excorant gland is full (which you can see on DEF), the lich can perform an eyeblast attack, emptying the excorant gland and releasing the energies in a powerful attack.