Rituals
Jump to navigation
Jump to search
Rituals focuses upon chanting and tonal notes to perform various magical rites. Though High Magic is not a prerequisite, Rituals is sometimes associated with Highmagic because both were established in civilized urban environments. Upon mastering this magical skill, the ritualist may move on to the specialization associated with the nexus of power they are connected to.
| Skill | Learned At | Description |
| --- | --- | --- |
| Encipher | Inept+0% | Hide your writings from prying eyes. |
| Laetitia | Inept+33% | Heal the ego. |
| Fortuna | Inept+66% | Call upon good fortune. |
| Puella | Novice+0% | Heal the body. |
| Draconis | Novice+33% | Cover your body with dragon scales. |
| Amissio | Novice+66% | Absorb the mental energy of others. |
| Puer | Apprentice+0% | Heal specific body parts. |
| Via | Apprentice+50% | Travel swiftly across Lusternia's highways. |
| Populus | Capable+0% | Increase your charismatic charm. |
| Conjuctio | Capable+33% | Command yourself a following. |
| Acquisitio | Capable+66% | Unconsciously pick up things around you. |
| Rubeus | Adept+0% | Focus your negative emotions. |
| Tristitia | Adept+33% | Sense how another protects himself. |
| Carcer | Adept+66% | Hinder the travel of others. |
| Master | Transcendent+0% | Move on to a master specialization. |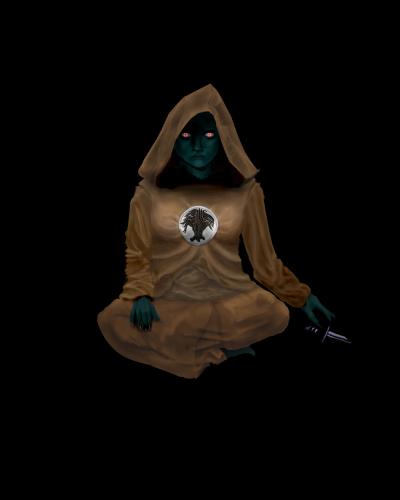 Encipher
Syntax
CHANT ENCIPHER <journal/letter> <cipher>

READ <object> DECIPHER <cipher>
CHANT TRANSLATE <journal/letter> <cipher>
In order to guard your writings from the uninitiated, you can hide your writings in a cipher. CHANT TRANSLATE will decipher the text so anyone may read.
Laetitia
Syntax
CHANT LAETITIA <target|ME>
Replenish the self-confidence and ego through this ritual.
Fortuna
The Ritual of Fortuna will increase one of your racial stats. It may only be cast once per Lusternia day.
Puella
Syntax
CHANT PUELLA <target|ME>
This healing ritual can be used on yourself or others.
Draconis
Syntax
CHANT DRACONIS
Damage Modifier: 1/8 magical resistance
Cover your body in numinous draconic scales, adding a layer of protection against magical damage.
Amisso
Syntax
CHANT AMISSIO <target>
Drain the mental strength of others, absorbing some for yourself.
Puer
Syntax
CHANT PUER <HEAD|CHEST|GUT|LARM|RARM|LLEG|RLEG>
Heal deep wounds in your body parts through this ritual. This will not heal specific afflictions in a body part, rather it heals the deep damage caused by weapons. See HELP DEEP WOUNDS.
Via
Syntax
CHANT VIA <target>
If you are upon one of the major roads of Lusternia, you may travel to any person who is also upon one of the major roads, which are the Ackleberry Highway, the Great Southern Highway, the Old Imperial Road, and the Alabaster Road.
Populus
Syntax
CHANT POPULUS
Vitals Bonus: 1/2 Ego
Increase your popularity and charisma through this ritual.
Conjuctio
Syntax
CHANT CONJUCTIO <target>
Force others to follow you.
Acquisitio
Syntax
CHANT ACQUISITIO [ON|OFF]
Allow yourself to become avaricious, and you will automatically pick up anything on the ground.
Rubeus
The Ritual of Rubeus is performed during times of war. It will prevent pacifism, lover's effects, lust, and fear.
Tristitia
Syntax
CHANT TRISTITIA <target>
Reveal the auric protections of others.
Carcer
Create a field of magical energy in a location, which has a chance of preventing others from exiting there.
Master
At this point in your training of Rituals, you have progressed where you must specialize in an aspect of this skill to continue learning. If you have not yet selected a specialization, see SKILLCHOICE LIST to see what is available. There may be a choice between two or more specializations.